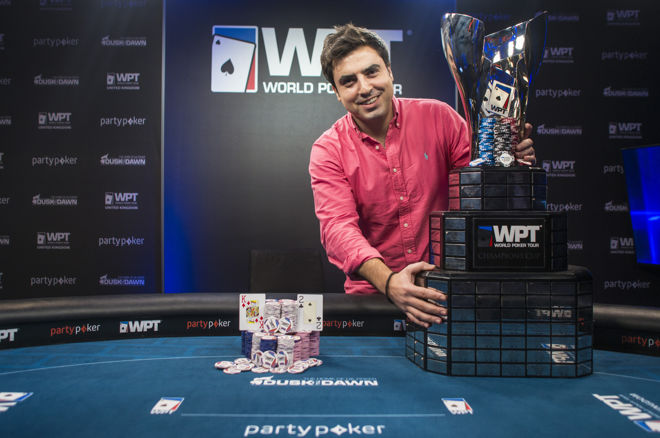 Luis Rodriguez Cruz has had a fantastic year for results in poker. Enjoying his biggest win yet at this years PARTY POKER WPT UK MAIN EVENT at Dusk Till Dawn for a massive £200,000. On Sunday November 6th he began the six-handed final table and emerged victorious less than 5 and a half hours later!
The final table chip counts.
| | | |
| --- | --- | --- |
| 1 | Luis Rodriguez Cruz | 1,640,000 |
| 2 | Alex Lindop | 755,000 |
| 3 | Seamus Cahill | 1,930,000 |
| 4 | Nabil Cardoso | 4,965,000 |
| 5 | Maxime Swennen | 2,345,000 |
| 6 | Christopher Yong | 3,875,000 |
Chris Yong returned into day 4 2nd in chips and hoped to bag himself his largest cash yet. This will be his 12th major cash!
Maxime Swennan, Luis Rodriguez Cruz, Alex Lindop and Seamus Cahill are the other players at the final table.
Lindop is known to be a very good player. He recently won a bracelet at this summer's World Series of Poker. Lindop returned to the final with only 755,000 chips, the short stack. Only a 15 big blind stack, but the players at the table knew if he got that double up he would be a DANGEROUS player.
Ireland's Cahill was another player feared at the table. He started the tournament with more than $850,000 in live tournament winnings, Cahill is 18th in the Irish all-time money listings. He was the runner-up in a $3,000 no-limit hold'em six-handed event at the WSOP for $395,986, this was his largest cash. The other players knew he was largely looking to expand this in this event.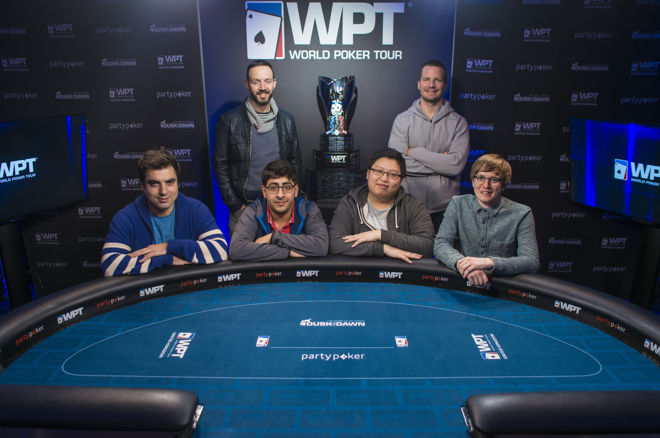 The final kicked off at 2:00pm.
Six hands in and Alex Lindop's attempts to spin up his 15 big blind stack ended in defeat. Cruz shoved all-in from the small blind with ace-five and Lindop called with the ace-four. The board ran out queen-high, Cruz's five-kicker played, leaving in Lindop a sixth-place finish with a nice score of £40,000.
16 hands later Ireland's Seamus Cahill was lost when Nabil Cardoso opened to 175,000 in the 40k/80k/10k level, Chris Yong three-bet to 450,000 and Cahill four-bet all-in for 2,050,000. Cardoso quickly folded and got himself out of the carnage, but Yong quickly called with ace-king and was in great shape against Cahill's dominated ace-queen. Cahill caught a queen on the river, but this gave Yong a Broadway straight. Seamus Cahill lef the comp with a nice £50,000, whilst the comp was now left 4 handed.
Then there were 3. On the 31st hand of the day, Maxime Swennen  pushed his stack in with A9. Cruz holding KQhh called and put Swennen at risk. The flop was J high with 2 hearts, the 9 of hearts on the turn giving Cruz the flush, leaving Swennen drawing dead. Swennen took home a nice £67,080 for 4th place.
Cardoso who had been very quiet so far had a plan to make a move. However he choose the wrong time to bluff his stack off to Yong who was playing his stack very well. Cardoso limped in with seven-four and Yong checked in the big blind with nine-six. The flop ran out  king-ten-six. Cardoso decided to bet 150,000 and Yong called. The nine of spades came on the turn. Cardoso threw in a 500,000 bet and there was a quick call from Yong. Cardoso then shoved  all of his remaining chips over the line when the six of spades came on the river, Yong snap called with his full house and now the tournament was now heads up. Cardoso finished in 3rd for a nice £90,000.
The game ran for a while heads up, until Yong down to 4 big blinds pushed his stack over the line with A 6 off. Cruz quickly called with K2 off. Yongs A6 held until the 2 of hearts landed on the river, crowning Cruz the winner and Yong in 2nd place with a nice £135,000 cash. A great comp held by Dusk till Dawn casino, with a great structure and great staff. The comps are a big hit every year, and players cannot wait until the next one.
==================================================================
How I became pretty good at poker and won a lot of money:
I learned REALLY REALLY good pre-flop play. It all starts here. If you eliminate these mistakes (and people make a lot of them), you'll save yourself a lot of grief and a lot of money. So I put together a program to teach solid pre-flop play with ace poker drills pre-flop trainer. It's a poker quiz style format that will help you understand how to not get yourself in trouble, and play smart hands in the correct spots. You can check it out here. It also comes with a free poker equity calculator.
I looked at what the very best online poker players were doing, and analyzed their games thoroughly. It took me 2 years to create, but I made Leak Buster. Poker stat and post flop analysis software that finds all of your biggest poker leaks in minutes. Now tens of thousands of online pro's have used and benefited from this software. You can too – check it out here.